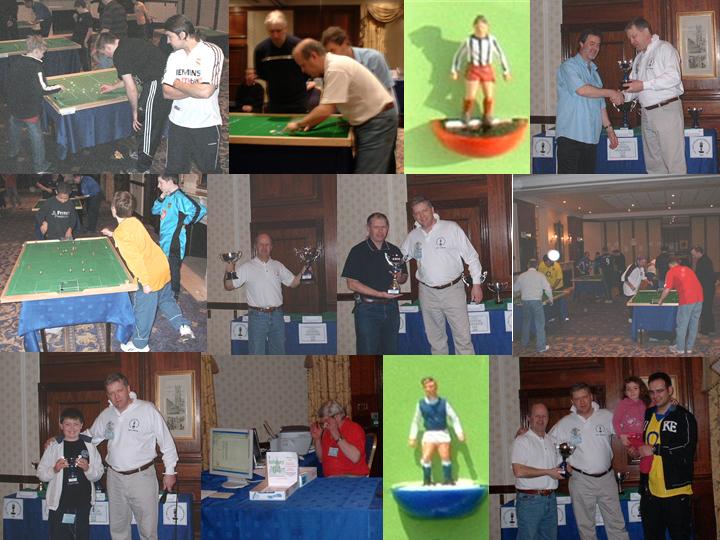 Another year and another National Challenge Cup. Again the TSPA provided the superb venue of the Metropole at the NEC, Birmingham. The turn out was a little disappointing this year with a number of regulars missing from the field of 28 players. However the presence of top players like Shorab, Phil Holmes, Kevin Dyson, Marcus Tilgner, and Laurie Easton ensured that the Table Soccer played was often of the highest standard. Hopefully that attraction of the tenth anniversary of the competition next year will again draw the hordes back to the baize!
There were two great suprises on the afternoon. One was the 1-0 defeat of the reigning champion, Shorab Jadunandan, by Simon Goodman in Round 2. Simon was, in turn, defeated 2-1 by the other surprise package of the day, Tom Taylor, in the next round. In the end Tom turned out to be the unluckiest player of the day. After he had disposed of Malcolm Bosomworth (2-0), Chris Wall (5-0), and Simon, he was next drawn to face Kevin Dyson. Tom went a goal up and held the advantage until the last minute. That was when he conceded the goal that condemned the game to a draw and also meant that Kevin moved into the final as his goal difference was one goal better than Toms!
The day had seen the usual contrasting styles of play and playing pieces from the traditional fifties flats through to the just released Raptor bases from the Stefan Corda company. This was reflected in the final with Kevins flats taking on the 'OO' figures and Astrobase tri-bases of Phil Holmes, the victor in the other group.
In a hushed final watched intently by the other players, Phil ensured that the modern designs were triumphant this year with a 2-0 win.
Other winners on the day were Estovan Mellon of Yr Clwb Peldroed Borth took the Junior Trophy, Milton Keynes snapped up the Team competition, and Wiltshire retained the Harvey Beavington Trophy.
During the afternoon Cyril Mitchener and Jeff Jordan kept the proceedings moving smoothly and are to be congratulated on their efforts.
If you have never taken part in this cup do look out for details for next years competition. This really is the best surround for any competition in the country.
GROUP A
| | | | | | | | |
| --- | --- | --- | --- | --- | --- | --- | --- |
| | | | | | | | |
| | ROUND 1 | | | | | | |
| | DAWKINS A. | | 1 | | 3 | | BRADLEY J. |
| | CURTIS S. | | 0 | | 5 | | HERBERT R. |
| | TILGNER M. | | 5 | | 0 | | WALL T. |
| | EASTON L. | | 7 | | 0 | | CROWE A. |
| | BOSOMWORTH K. | | 1 | | 9 | | HOLMES P. |
| | JONES V. | | 1 | | 1 | | FLETCHER C. |
| | MELLON E. | | 0 | | 2 | | DODD P. |
| | | | | | | | |
| | ROUND 2 | | | | | | |
| | BRADLEY J. | | 2 | | 0 | | HERBERT R. |
| | TILGNER M. | | 1 | | 1 | | EASTON L. |
| | HOLMES P. | | 7 | | 0 | | DODD P. |
| | JONES V. | | 1 | | 1 | | DAWKINS A. |
| | FLETCHER C. | | 5 | | 0 | | CURTIS S. |
| | WALL T. | | 9 | | 0 | | CROWE A. |
| | BOSOMWORTH K. | | 1 | | 2 | | .MELLON E |
| | | | | | | | |
| | ROUND 3 | | | | | | |
| | BRADLEY J. | | 1 | | 1 | | HOLMES P. |
| | TILGNER M. | | 2 | | 0 | | FLETCHER C. |
| | EASTON L. | | 2 | | 0 | | HERBERT R. |
| | DODD P. | | 0 | | 3 | | WALL T. |
| | MELLON E. | | 4 | | 10 | | JONES V. |
| | DAWKINS A. | | 9 | | 1 | | CURTIS S. |
| | CROWE A. | | 1 | | 0 | | BOSOMWORTH K. |
| | | | | | | | |
| | ROUND 4 | | | | | | |
| | BRADLEY J. | | 3 | | 0 | | TILGNER M. |
| | HOLMES P. | | 2 | | 1 | | EASTON L. |
| | WALL T. | | 3 | | 2 | | JONES V. |
| | FLETCHER C. | | 0 | | 0 | | DAWKINS A. |
| | HERBERT R. | | 0 | | 0 | | DODD P. |
| | MELLON E. | | 8 | | 0 | | CROWE A. |
| | CURTIS S. | | 0 | | 0 | | BOSOMWORTH K. |
| | | | | | | | |
GROUP B
| | | | | | | | |
| --- | --- | --- | --- | --- | --- | --- | --- |
| | | | | | | | |
| | ROUND 1 | | | | | | |
| | GOODMAN S. | | 6 | | 0 | | WALL M. |
| | EVANS M. | | 0 | | 4 | | JADUNANDAN S. |
| | WALL C. | | 3 | | 0 | | SCOTT M. |
| | TAYLOR T. | | 2 | | 0 | | BOSOMWORTH M. |
| | CURTIS A. | | 3 | | 4 | | PATERSON R. |
| | DYSON K. | | 2 | | 0 | | MOOGAN T. |
| | BURNS J. | | 0 | | 3 | | MITCHENER C. |
| | | | | | | | |
| | ROUND 2 | | | | | | |
| | GOODMAN S. | | 1 | | 0 | | JADUNANDAN S. |
| | WALL C. | | 0 | | 5 | | TAYLOR T. |
| | PATERSON R. | | 0 | | 4 | | DYSON K. |
| | MITCHENER C. | | 1 | | 1 | | WALL M. |
| | EVANS M. | | 1 | | 0 | | SCOTT M. |
| | BOSOMWORTH M. | | 4 | | 0 | | CURTIS A. |
| | MOOGAN T. | | 4 | | 0 | | BURNS J. |
| | | | | | | | |
| | ROUND 3 | | | | | | |
| | GOODMAN S. | | 1 | | 2 | | TAYLOR T. |
| | DYSON K. | | 3 | | 0 | | MITCHENER C. |
| | JADUNANDAN S. | | 8 | | 0 | | WALL C. |
| | PATERSON R. | | 1 | | 0 | | EVANS M. |
| | BOSOMWORTH M. | | 2 | | 2 | | MOOGAN T. |
| | WALL M. | | 6 | | 0 | | SCOTT M. |
| | CURTIS A. | | 1 | | 0 | | BURNS J. |
| | | | | | | | |
| | ROUND 4 | | | | | | |
| | TAYLOR T. | | 1 | | 1 | | DYSON K. |
| | GOODMAN S. | | 1 | | 1 | | PATERSON R. |
| | JADUNANDAN S. | | 7 | | 2 | | MITCHENER C. |
| | BOSOMWORTH M. | | 2 | | 0 | | WALL M. |
| | MOOGAN T. | | 7 | | 0 | | WALL C. |
| | EVANS M. | | 1 | | 0 | | CURTIS A. |
| | SCOTT M. | | 0 | | 0 | | BURNS J. |
| | | | | | | | |
GRAND FINAL
PHIL HOLMES 2 0 KEVIN DYSON
| | | | | | | | | | | | |
| --- | --- | --- | --- | --- | --- | --- | --- | --- | --- | --- | --- |
| FINAL TABLE | | P | W | D | L | F | A | GD | | Pts | |
| 1 | HOLMES P. | 4 | 3 | 1 | 0 | 19 | 3 | 16 | | 10 | |
| 2 | DYSON K. | 4 | 3 | 1 | 0 | 10 | 1 | 9 | | 10 | |
| 3 | TAYLOR T. | 4 | 3 | 1 | 0 | 10 | 2 | 8 | | 10 | |
| 4 | BRADLEY J. | 4 | 3 | 1 | 0 | 9 | 2 | 7 | | 10 | |
| 5 | JADUNANDAN S. | 4 | 3 | 0 | 1 | 19 | 2 | 17 | | 9 | |
| 6 | WALL T. | 4 | 3 | 0 | 1 | 15 | 7 | 8 | | 9 | |
| 7 | PATERSON R. | 4 | 3 | 0 | 1 | 8 | 8 | 0 | | 9 | |
| 8 | MOOGAN T. | 4 | 2 | 1 | 1 | 13 | 4 | 9 | | 7 | |
| 9 | EASTON L. | 4 | 2 | 1 | 1 | 11 | 3 | 8 | | 7 | |
| 10 | BOSOMWORTH M. | 4 | 2 | 1 | 1 | 8 | 4 | 4 | | 7 | |
| 10 | TILGNER M. | 4 | 2 | 1 | 1 | 8 | 4 | 4 | | 7 | |
| 12 | GOODMAN S. | 4 | 2 | 0 | 2 | 9 | 5 | 4 | | 6 | |
| 13 | MELLON E. | 4 | 2 | 0 | 2 | 14 | 13 | 1 | | 6 | |
| 14 | CURTIS A. | 4 | 2 | 0 | 2 | 8 | 9 | -3 | | 6 | |
| 15 | DAWKINS A. | 4 | 1 | 2 | 1 | 11 | 5 | 6 | | 5 | |
| 16 | JONES V. | 4 | 1 | 2 | 1 | 14 | 9 | 5 | | 5 | |
| 17 | FLETCHER C. | 4 | 1 | 2 | 1 | 6 | 3 | 3 | | 5 | |
| 18 | HERBERT R. | 4 | 1 | 1 | 2 | 5 | 4 | 1 | | 4 | |
| 19 | WALL M. | 4 | 1 | 1 | 2 | 7 | 9 | -2 | | 4 | |
| 20 | MITCHENER C. | 4 | 1 | 1 | 2 | 5 | 11 | -6 | | 4 | |
| 21 | DODD P. | 4 | 1 | 1 | 2 | 2 | 10 | -8 | | 4 | |
| 22 | EVANS M. | 4 | 1 | 0 | 3 | 2 | 7 | -5 | | 3 | |
| 23 | BURNS J. | 4 | 1 | 0 | 3 | 1 | 8 | -7 | | 3 | |
| 24 | WALL C. | 4 | 1 | 0 | 3 | 3 | 20 | -17 | | 3 | |
| 25 | CROWE A. | 4 | 1 | 0 | 3 | 1 | 24 | -23 | | 3 | |
| 26 | BOSOMWORTH K. | 4 | 0 | 1 | 3 | 2 | 12 | -10 | | 1 | |
| 27 | CURTIS S. | 4 | 0 | 1 | 3 | 1 | 19 | -18 | | 1 | |
| 28 | SCOTT M. | 4 | 0 | 0 | 4 | 0 | 11 | -11 | | 0 | |
| | | | | | | | | | | | |